The Mission Mastery Program!
Clarify vision, mission, values
Define roles, responsibilities
Improve response-readiness
Determine decision-making processes
Examine/improve trust
Strategic Planning:  Foundation for Success
Our multi-day strategic planning program is titled  "Mission Mastery".   It's a high-end program which calls out the best in you and your staff.  Because at the heart of every great business strategy is the mission-driven commitment of key individuals.
Mission Mastery helps you create healthy, accurate agreements by surfacing and resolving hidden barriers to productivity.
This program is for you if:
You're not getting the results you want
Team direction is confused
People operate in silos
Leadership is stressed
Individuals are in conflict
Work is no longer fun, exciting, or inspiring
Step One:  We help you answer questions:

What do we do?
Why do we do it?
How do we do it?
In answering these questions,  your leadership team sets a tone for the real work to begin.  Your answers initiate a series of steps to get us in sync with you and the needs of your team. This process ends with a scheduled planning call with The Meeting Guy where we will refine and customize your program.
 Step Three:  Put it all together / Schedule a call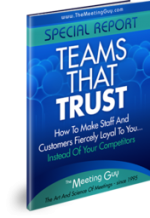 Once you submit the survey, you'll receive a link to our FREE "Teams That Trust" ebook.
This resource is yours to keep.  It helps you examine Trust at your organization.
Our office will follow up to schedule a call, which serves to give you quick tips / coaching on how to how best prepare  for the pre-retreat preparation which is so critical to hosting a successful Retreat.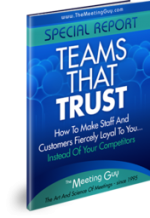 "Thank you for your help and support during our Summit.  In my experience, the team was clearly in over our heads…I am infinitely grateful for you stepping up and helping herd and wrangel the giant feral cats with us that weekend.  We couldn't have done it without you. "
Brian Pinkham – CEO, Luminous Flux and The Men's Circle Summit
"When things got tough, The Meeting Guy helped us leverage emotions and move back to productivity "
Matt Endriss – President (past), Birkenstock USA
"He helped us relax and get back to productivity. The Meeting Guy… That's the perfect name for him! "
J.R. – District Ranger, USDA Forest Service