Are you almost ready to…
Experience more focus?

Do everything on your list?

Demonstrate your potential?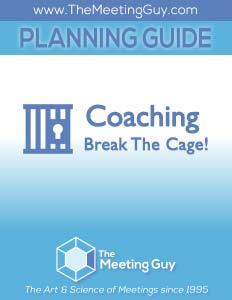 Know they want to make a difference
Aren't expressing their full potential
Are unhappy with their current way of being
Sense it's time for commitment and drive towards significant change
Feel out of balance and are ready to experience vitality, passion and real success
Don't know what is next, or how to get there
Break the Cage has 3 steps:
Identify your cage
Practice new ways of being
Measure progress and make adjustments
The Process:
Taps your inner power and passion
Examines forces that confound your potential
Highlights emotion as the fundamental element of success
Results in a comprehensive Breakthrough Plan (a life-long tool for self-empowerment)
Focuses on what's working, clears obstacles and celebrates the wins
How does his Coaching work?
The Meeting Guy's coaching is unique in one fundamental way:
  The depth of masterful listening he brings to you.
In a world of too much, too fast, David coaches with quiet intensity and commitment.
It's your turn to have a professional breakthrough.
Break the cage.
The Meeting Guy's coaching helps you:
Clarify what you want
Identify what prevents you from getting it
Establish realistic goals with just enough stretch to be kind of be painful
Embrace your deepest values, and allow them to guide your actions
Create a clear, achievable plan for success
Stay focused, productive, and on track
Achieve breakthrough results, on time!
Come on… Break The Cage!
You can do this.
The Meeting Guy is not normal.   He's really, really good.
Take a chance and change your life.   
Click the Make An Appointment link above to schedule a phone call with The Meeting Guy.
"David worked with me on e on one, helped me create reasonable and attainable goals, and inspired meto put the fun back into marketing myself and my practice. "
Dr. Charlotte Massey, ND – Montana Integrative Medicine
"I've enjoyed working with David Ferrera as my buseinss coach.  He kept me focused on the importance of developing a core message about the benefits that my oranization provides to our clients, our university, and our community."
Bill Kinsey– Director,  Economic Research, University of Virginia Center for Urban Development