The Mission Tune Up Program!
Clarify mission, vision, values
Set direction and priorities
Define objectives, roles, responsibilities
Improve response-readiness
Increase fund-raising capacity
Enhance financial management systems
Improve trust
Does Your Organization Need a Mission Tune Up?
Meeting Facilitation:  Full Day  or Half Day
Half Day / Full Day  (nonprofit discount available)
For our Meeting Facilitation program,  we interview selected members of the senior team/Board, as well as a cross-section of staff from all levels of the organization.
We define what leadership is doing well, and where leadership may be falling short.
Our process helps define structures / cultural qualities that erode your organization's capacity to fulfill its mission.  Then we help you build your solution set.
The Meeting Guy's facilitation methodology strips away emotional chaos to focus on common goals and values. We will guide the team to assess the deeper, subtle elements of your communication styles and culture, so that your team will be better equipped to deal with conflict and communication challenges as they arise.
We review operations, communications, and cultural practices.  Then, we relate them to measurable outcomes and surface the challenges standing in your way. The result is more enthusiasm and commitment from senior leadership and staff, and an enhanced capacity to fulfill your Mission. Our approach includes an assessment of what we at The Meeting Guy call the "Mission Killers".  The "Mission Killers" are:
Leadership is ambiguous, unsupportive
Culture lacks trust, safety
Culture tolerates mediocrity
Team members have poor interpersonal skills (lack of empathy, lack of boundaries)
Team members lack technical skills necessary to succeed
SOLUTION PATHWAY
The Meeting Guy team follows a three-step process for our Meeting Facilitation Full Fay program:
Scope
Design
Facilitate
Scope
In our view, Scope is primarily comprised of listening:  Our pre-meeting design process includes powerful listening, to your organizational leaders, to staff and other key stakeholders, to understand your organization's culture, the current situation and desired outcomes for your meeting.
Design
We then design exciting, achievable objectives and a comprehensive agenda to address those needs and outcomes. We ask for preliminary feedback from you and others on your team to ensure that participants won't be spending costly time defining issues; this means that your retreat will focus on producing results, building performance systems and making commitments and action plans for post-event.
Facilitate
  You will be in good hands!  The Meeting Guy facilitators guide your day-long meeting so participants can concentrate on achieving goals and solving problems. During the meeting, we will foster an interactive environment in which participants openly discuss issues and work on collaborative solutions. The results are stunning, and include improved alignment, increased Trust, better communication and more cooperation. All of our meetings include the facilitator's capacity to emphasize, capture and document key ideas and priorities so we can create a useful post-event report.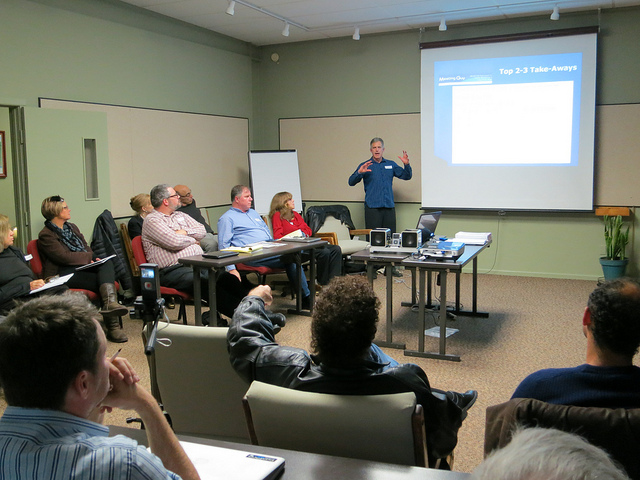 Results:
Structured agenda

Enforced, consensus-building ground rules

Increased productivity in group negotiations

Decisions that solve problems, set direction and determine actions
This program is for you if:
Your meetings are perceived as a waste of time

Your meetings take longer than they should

Dominant individuals hijack or disrupt your meetings

Your meetings don't produce desired results consistently
Half Day – 4 Hours
Per Session
Meeting Planning
Meeting
Session Review
Full Day – 4-8 Hours
Per Session
Meeting Planning
Meeting
Session Review
Feedback Review
"David's meeting facilitation skills, especially during the challenging pre-meeting planning sessions, is an asset to any organization looking for improved collaboration and meeting flow. "
Dickies Marketing Team
"David was actively involved in the pre-meeting process of developing theme, content and flow. His presence and many contributions were vital to the overall success of the Retreat. He kept a significantly energetic group on-task by setting and maintaining the meeting Agenda. "
M. Penn – SVP, Direct Channel / Intl. Sales – Dickies Marketing Team
"We were impressed by his
calm, centered approach to group facilitation, his manner of being so
caring and attentive, as well as his warmth and sense of humor. "
Molly Reed – Programs Director, The Art of Community